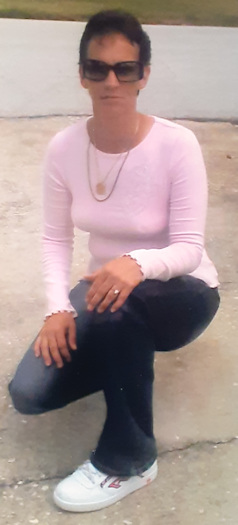 Toni Ball 943026
Homestead Correctional Institution
P.O. Box 23608
Tampa, Florida 33623

Hey Everyone!! I have a bit of time on my hand's these day's so I thought I'd make some new friends. All joking aside my hope is to change my life. I am trying to keep my sense of humor but due to unfortunate circumstances I find myself in prison. I know I have made some bad choices in the past; but my hope is to have a chance at a new future I am willing to relocate. I'm still fighting these changes and the illegal sentencing.
I could really use a friend to talk to. Being in this situation makes me realize what's important in life. Just waking up and receiving a notification that I have a email will bring a smile to my face and joy to my heart. I look forward to hearing from you soon, DUE TO BEING INCARCERATED MY ACCESS TO EMAIL SERVICE IS THROUGH ( SECURUS TECHNOLOGIES ) HERE'S THEIR PHONE #1-800-844-6591 OR YOU CAN GO TO THEIR WEBSITE AND ( SIGN UP FOR EMESSAGING ) SO WE CAN EMAIL EACH OTHER OR WE'LL HALF TO COMMUNICATE VIA SNAIL MAIL. LIKE BEFORE THE INTERNET HARD TO IMAGINE HUH LOL. MY ADDRESS IS TONI D. BALL DC # 943026 PO BOX 23608 TAMPA, FLORIDA 33623 IT'S MUCH BETTER USING THE EMAIL SERVICE OTHERWISE IT CAN TAKE WEEKS TO RECEIVE THE MAIL.
Here's a little bit about me I'm quite and easy going willing to try new things. I enjoy watching movies and sports kinda a homebody like spending time with family and friends. I'm not hard to please it doesn't take much to make me happy. I so enjoy working with the dog's training them for the handicap it gives me purpose knowing that they'll be able to help someone else cope with their difficulties.
Date of Birth: 1/5/1971
Height: 5'6"
Education:
Occupation before prison:
Earliest Release Date: Motion Pending
Maximum Release Date: Life
Would you like letters from both sexes?
(This does not refer to sexual orientation)
Can you receive email? Yes
If yes which service? securus technology
Can you respond to email? Yes
Activities in prison: I'm a certified dog trainer for the handicap
Anything Else? Willing to relocate hoping for a new future upon release.


Notice: To verify all or some of the information given please click here